A Message from Our Founder
While in my 20's, I set upon a path to create a mission statement that would allow me to grow, evolve and persue my passions and dreams. My mission then was "to be a loving, powerful force for positive change in my own life, and in the lives of the people around me". This philosophy continues to guide me today and drives my desire to contribute to family, friends and the world around me.
It is privilege and an honor to expand on that mission through TEACH GIVE INSPIRE Fridays, and to provide a voice and a platform for women to inform with Passion. TGIF is designed to empower and ignite creativity and possibilities for women in our community, and to provide opportunities to get beyond "Hi, how are you?" Moving past these pleasantries allows all of us to form more meaningful connections and create authentic dialogue that is shared through the voices and stories of our speakers.
I welcome you to join us for our next TGIF event and to take the opportunity to listen and learn along with women who will share their professional stories, talents and wisdom. My goal is provide a morning of inspirational and uplifting take away strategies and ideas for women to put into use in their daily lives. After all, when we better ourselves, we better our families and our community. You too can be a force for loving, powerful, positive change. I dare you!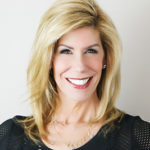 Warmly,
Barbara Guterman
Founder, TEACH GIVE INSPIRE Fridays