The theme for Friday, October 27th is "OPENING HEARTS AND MINDS: The Fight to Save Lives with Courage, Strength and Resilience".
This TGIF is such an important one because it Is at the root of why TGIF was started.- To INFORM with Passion. We hope you will join us for this important program featuring Conchita Sarnoff, (Human Rights Advocate, Journalist, and Author of the Book TrafficKing, the Jeffery Epstein case), Michelle Stravitz and Ilana Gamerman (Founders,CEO and COO of 2Unstoppable, Breast Cancer Survivors, Mothers), and Joy Kingsley Ibeh, (Founder, Kingsley Modeling Agency, Celebrity Stylist, Advocate for Ending Gun Violence).
TGIF provides an opportunity for all of us to expand our lens on some of the most important topics of our times, and our speakers stories truly have the power to help shape our culture. Conchita will TEACH us about the critical and growing industry of human trafficking and child sex trafficking. Michelle will GIVE women tools and exercises to support or navigate a breast cancer diagnosis and journey more effectively, and Joy will INSPIRE us with her power of resiliency, and her courageous story of surviving a history of Gun Violence.
Together, as mothers, daughters, sisters, aunts and friends , we CAN do something to improve the outcomes and experiences for all women and girls. Please join us!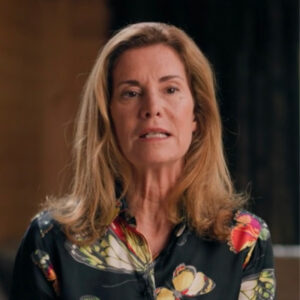 CONCHITA SARNOFF – Teach Speaker
Human Rights Advocate, Journalist, Author of TrafficKing: The Jeffrey Epstein case.

YANKING BACK THE CURTAIN ON THE UNDERWORLD OF CHILD TRAFFICKING

Conchita Sarnoff is a Human Rights advocate, author, and journalist. Beginning in 2006 Ms. Sarnoff has been instrumental raising awareness of human trafficking in the United States.
Sarnoff was the first Human Rights advocate turned journalist to brake open the Jeffrey Epstein case in an explosive 6-part Daily Beast series (2010-2015). Ms. Sarnoff continued to report the Epstein case, in spite of death threats, until his second arrest in New York on July 6, 2019.

Sarnoff has written several books. TrafficKing (April 2016) reprinted by Simon & Schuster (January 2020). Buried Secrets not yet published, and Shadow Brokers, the third in the Epstein trilogy-an unfinished manuscript. Joy, her fourth book (TBD 2024) is an illustrated booklet of inspirations. Artist and Curator, Veronica Scharf Garcia, illustrated Joy.
Ms. Sarnoff lectures at high schools and universities and has been interviewed in numerous U.S., British, European, and Latin American documentaries, television programs, radio, and online news channels. Most interviews can be seen online on YouTube. A Contributor to several U.S. and foreign news journals, television and radio stations including: ABC, CBS, FOX, MSNBC, NBC, PBS, BBC, Telemundo, Univision, Caracol, Hulu, The Financial Times, Huffington Post, The Daily Beast, The Daily Caller, The Washington Post, The Washington Times, and others, Ms. Sarnoff focuses on the broad topic of human trafficking.
In 2014, Sarnoff founded the Alliance to Rescue Victims of Trafficking a non-profit organization in Washington DC. The organization is inactive. In 2019, she co-founded with Georgetown University Professor Katharine Donato, the Georgetown University Human Trafficking Research Center & Clinical program. Ms. Sarnoff's career began in media as a government affairs account executive at CNN's first foreign bureau in London.
Educated at the School of the Sacred Heart and Columbia University, she majored in political science and Latin American history. Ms. Sarnoff has two children from her marriage to Daniel J. Sarnoff, grandson of the late General David Sarnoff- "The Father of Television-" founder of NBC. Ms. Sarnoff is married to Ambassador Robert James Woolsey, former Director of Central Intelligence. Ms. Sarnoff and her husband live in Washington DC.
MICHELLE STRAVITZ – Give Speaker
Co-Founder and CEO, 2Unstoppable, Survivor, Parent Coach
MOVING 2UGETHER TOWARD BETTER CANCER OUTCOMES FOR WOMEN
Michelle Stravitz is an 8-year Triple Negative Breast Cancer Survivor and the Co-Founder and CEO of 2Unstoppable, a nonprofit organization whose mission is to help women with cancer improve their outcomes through exercise. Founding 2Unstoppable brings together a wealth of experience and passion advising and serving on the boards of various non-profit organizations and running a small management consulting firm.
Michelle is the CFO of Spectrum Management Consulting and is also a professional event coordinator. She has served as a peer supporter for women of all ages undergoing treatment for breast cancer, both informally and through organizations such as Sharsheret and Life with Cancer.
Michelle is a PCI-Certified Parent Coach, holds an MS from The GWU, and BS Engineering and BS Economics degrees from the University of Pennsylvania. She and her husband live in Fairfax, VA and they have four adult children. Her favorite form of exercise is yoga.

ILANA GAMERMAN
Co-Founder and COO, 2Unstoppable, RN, Survivor
Ilana Gamerman is an 11-year Breast Cancer Survivor and a Registered Nurse with a master's degree in Nursing Informatics. Her desire to help people, her passion for fitness, and her dedication to healthcare are what drive her motivation to help every woman diagnosed with cancer become unstoppable.
An avid exerciser for over 20 years, Ilana finds that exercise helps her focus, clears her thoughts, and makes her feel good. After years of involvement as a volunteer in various community organizations, she is proud to co-found 2Unstoppable and help other women reap the benefits that exercise has to offer.
Ilana lives in Vienna, VA with her husband and has three adult sons.
JOY KINGSLEY IBEH – Inspire Speaker
Founder and CEO Kingsley Modeling Agency, Celebrity Stylist, Anti-Gun Violence Advocate

FROM STRUGGLE TO SURVIVAL ; MANIFESTING BEAUTY FROM PAIN
From her birthplace in Nigeria to a small flat in London, and ultimately to the United States, Joy's love for sports and fashion followed her across the globe as she established herself as a n athlete and model. Joy's image has graced national advertisements, fashion publications, TV and Digital Media commercials, and she has been featured in Forbes. Her Journey to the "beautiful world" she curates has its roots In pain and gun violence which has followed her family and fueled her passions. Her story Is one of Struggle and Survival.
Joy founded Kingsley Management in 2017 with her husband and Co-Founder, Azam Mirza. In just a few short years, Kingsley Models has quickly established itself as one of the premier talent agencies in the Mid-Atlantic region. Their talent has graced the pages of British Vogue, Elle Bulgaria, Washington Life, DC Modern Luxury, The House Magazine, and many others. Furthermore, their talent had the unique opportunity to partner on national ad campaigns with companies including; Olympus, The Ritz-Carlton, Hilton Hotels, Capital One Bank, Grand Marnier, Wawa, Under Armor, and more.
In addition to being the CEO of Kingsley Models, Joy is the lead wardrobe stylist for Style by Kingsley where she stands out as a trendsetter and master in her craft. She has worked with top industry professionals such as journalist Soledad O'Brien; host of CBS Face the Nation, Margaret Brennan; celebrated author, Jason Reynolds; rapper and philanthropist, Master P; and professional basketball teams, the Wizards and Mystics.
As a fashion expert and contributor on TV and digital platforms, Joy and Kingsley Models have appeared frequently on Good Day FOX 5, Great Day Washington WUSA9, and Good Morning Washington WJLA 7.
Joy is passionate about giving back, and about overcoming pain with beauty. She is involved with various philanthropic organizations in the Nation's Capital. Her work and journey our a reflection of her life experiences.